Posted by admin
On December 15, 2016
0 Comments
Heritage Train Ride, Sydney Harbour High Line, Sydney Highline, Transport Heritage NSW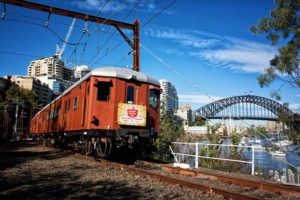 Due to High Demand..This Event Has Now SOLD OUT! We thank everyone for their support of this event. 
More joint events with Transport Heritage are being planned for later this year. 
Sydney Harbour High Line Association in conjunction with Transport Heritage NSW is now offering the opportunity for members of the public to register their interest in the heritage train ride along the Waverton – Lavender Bay rail line Sunday 12th February 2017
Transport Heritage NSW and the Sydney Harbour High Line Association (SHHL) have developed this unique event to ride the Lavender Bay Line on board Sydney's vintage electric train – Set F1.
The train will board at North Sydney Station, travel past Waverton Station and along the Lavender Bay line to Luna Park with water views over Berrys Bay, Waverton Fields, Sawmillers Reserve and Lavender Bay. The return trip and alighting is at North Sydney. All proceeds received by the SHHL will be donated to Wendy's Secret Garden towards its ongoing upkeep.